Active construction sites provide a unique set of temperature related challenges. Every piece of equipment (handheld or large scale) has a range of temperatures in which they operate safely and efficiently. Cold weather can also adversely affect every fluid, compressed gas, solvent, and even solids (such as roof tiles, concrete, masonry, etc.) used on a construction project. Not to mention, the toll that cold temperatures can take upon personnel as they spend excessive man-hours battling the elements in icy and difficult conditions.
So how do construction companies avoid shutting down for months at a time, and keep their projects on time and safe during the winter? Well, there are a few categories of products out there.
What Construction Heating Solutions Are Out There?
Insulative Blankets
For some temperature related issues, insulative blankets can provide equipment and materials with minimal protection if no interior storage is available. Laying down quick and insulating barriers over concrete pours and stockpiles of temperature sensitive materials, can be an inexpensive solution for a minor temperature dip. However, when winter gets into full swing, these insulating blankets cannot offer sufficient protection. 
Space Heaters/Forced Air
For colder conditions, a heat transfer method is needed. For some applications, construction companies turn to forced hot air, or space heaters. Using a space heater is a natural approach considering forced air is what we use in our homes to keep ourselves warm during the winter. When it comes to heat transfer efficiency, space heaters spend too much energy spreading heat around a large area instead of directing it where it is needed most. During the winter months, space heaters may work well for warming zones for construction personnel to use during breaks, but provide little thermostatic control for temperature critical materials.  
Insulated Heating Blankets
The most efficient construction heating solutions provide heat exactly where it is needed most. Surface contact heating saves energy and operating costs by reducing heat wasted to the ambient air. By combining insulation and heat, insulated heating blankets both reduce heat loss and provide direct surface to surface contact heating. Let's take a look at the insulated heating solutions Powerblanket has to offer.
The Powerblanket Advantage
Powerblanket's journey began in 2005 by seeking out solutions to cold weather construction problems. We set forth to provide temperature solutions to help construction companies get back to work and enjoy efficient job security all winter long. Over the years, we have applied our patented heat spreading technology to many durable and job-site worthy products that offer rugged freeze protection, protect valuable materials and equipment, and save our clients time and money.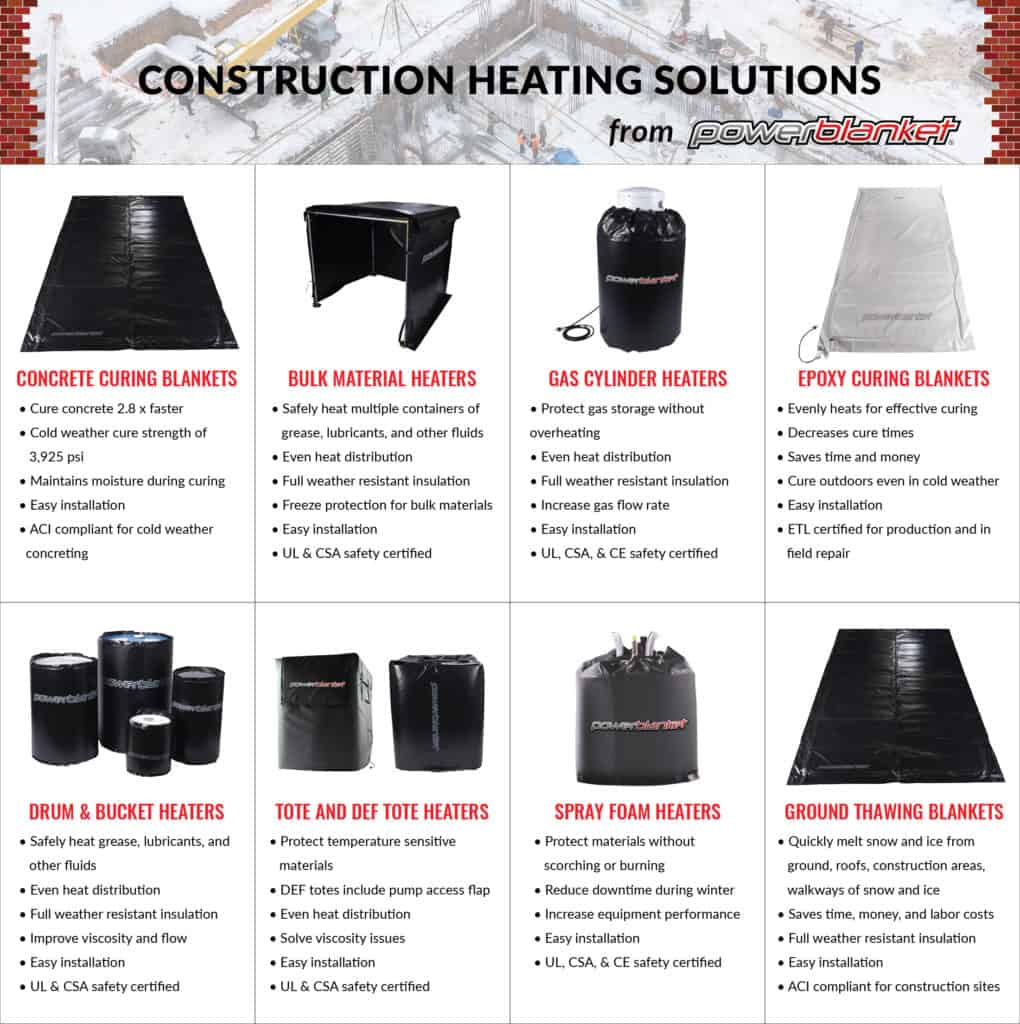 Concrete Curing Blankets
Solving winter construction problems is where it all began for Powerblanket. Our process started with helping construction companies find a way to effectively cure concrete and keep operations running all winter long. Our concrete curing blankets have kept construction crews working all over the world, by providing innovative heating solutions for even the most extreme environments. Our blankets cure concrete 2.8 x faster than typical insulated blankets and properly maintain moisture levels during the entire hydrating process. By allowing concrete to cure properly, Powerblanket can help you achieve stronger cures, faster, and fit any size pour you need.
While constructing the Christopher S. Bond Bridge in Kansas City, Massman construction encountered a mid-winter dilemma during below 0° temperatures. They needed a way to preheat a pour site, protect a fresh pour, and achieve a strong cure to keep their project on schedule:
"We didn't have time to wait out the winter for the temperatures to become more moderate. The Powerblanket concrete heating blankets certainly played an important role in keeping us on schedule and not having to postpone the pour on an important Kansas City bridge." (Dale H, Project Manager, Massman Construction)
Another construction customer has found satisfaction with our concrete curing blankets:
"[Powerblanket] was the best cold-weather concrete heating and curing system we have worked with." (Vern A, Carpenter Foreman, Walsh Construction)
Epoxy Curing Blankets
Powerblanket can also provide you with the even heating needed for epoxy and composite curing applications. Completing epoxy based projects and repairs is not always possible in a warm environment. Fortunately, our epoxy curing blankets provide you with the high watt density coverage needed to produce a strong and defect free cure during production or even out in the field.
When one customer needed a quicker and more cost effective method for curing large carbon fiber joints, they turned to Powerblanket:
"When Richard A. contacted us, it was obvious that he needed something far less-expensive and time consuming than his present method. I discussed with him the details of our epoxy-curing blankets, and he was excited to try them out. What started with a 2 foot x 2 foot test blanket quickly snowballed into many more orders." (Powerblanket rep)
Ground Thawing Blankets
Few things bring a construction site to a screeching halt than frozen ground. Winter can make any excavation or subterranean repair, large or small, an impossible and costly endeavor. Instead of postponing projects and missing deadlines, look no further than Powerblanket ground thawing blankets. Prep your ground with little, to no effort by laying down our powerful and high watt dense blankets and let them do the work for you. We can help you thaw ground at an average rate of 12-18 inches every 24 hours and achieve depths of 72 inches (depending upon ground composition and ambient conditions). 
One of our electrician customers found our ground thawing blankets essential in North Dakota:
"These really do a great job of thawing ground quickly. I live in North Dakota and the frost can get to 8' in some harsh winters, even some rural water lines froze a couple years back. These will usually thaw about a foot a day directly below the blanket and it's surprising how easy it digs with the moisture softening up the soil. As an electrician, these have been a real life saver." (5 star Amazon review, April 2017)
Gas Cylinder Heaters
Cold temperatures can wreak havoc on gas cylinder storage. Maintaining optimal pressure within a tank or cylinder is extremely difficult during the winter. Powerblanket can keep your compressed gas cylinders (propane, butane, oxygen, nitrogen, etc.) safe and usable with our gas cylinder heaters. Our heating blankets provide uniform heat across the entire cylinder surface, and increase your gas yield to keep operations running at a premium. Here's how one customer benefited from our gas cylinder heaters:
"This item is AWESOME! I've had 6 feet of snow drift around it and it keeps a nice hole melted at least two feet radius from the tank. Even in sub zero temps it still works like a champ. Plus I'm saving money by buying my propane in freezing temps and then heating it up because propane expands when it's heated. Saved me lots of money this winter!" (5 star review, April 2017)
Drum/Bucket Heaters
Many industries store temperature sensitive materials in bulk containers such as drums, barrels, and buckets. Powerblanket bucket and drum heaters provide state of the art, full coverage heating that is superior to traditional band heaters. By completely wrapping buckets and drums, Powerblanket's patented heat spreading technology eliminates hot and cold spots. Equipped with heavy duty vinyl insulation, these blankets direct heat inward to provide freeze protection and improve product viscosity. With external thermostatic controls, our heaters can be calibrated to keep your materials within their specific temperature ranges to prevent scorching, denaturing, or other costly damage. Our customers have been able to continue construction operations even during the coldest of winters with our drum and bucket heating blankets.
Here is what one customer appreciated about our bucket heaters:
"Great for keeping paint thin/warm enough to work with even when it's cold. The heating blanket fits well around a 5 gallon bucket and will actually warm up paint and thin it out so it's smooth to work with even when it's so cold the paint has gone thick…Works outstandingly well in our cold Minnesota temperatures!" (5 star Amazon review, November 2017)
Another customer was able to protect drums of industrial lubricants during a frigid North Dakota winter:
"We are extremely satisfied with the switch to Powerblanket drum heaters. Powerblanket's unique technology allows our containers of coatings and materials to be heated evenly and quickly, opposed to band heaters, which concentrate heat in one spot and have charred our product, sometimes contaminating the entire container and rendering it unusable…In fact, our customers successfully operate in the extreme cold conditions of North Dakota in uninsulated trailers thanks to Powerblanket drum blankets. They use considerably less power than band heaters, have temperature control capability, and are a top quality product." (Mike R, Howard Marten Fluid Technologies)
Tote and DEF Tote Heaters
For construction operations that store fluids or chemicals (including DEF) in IBC totes, Powerblanket is proud to offer tote and DEF tote heaters that are designed to fit perfectly and safely heat and protect the contents within. Our tote heaters offer even, consistent, and regulated heating for 250, 275, 330, 350, 450, and 550 gallon totes. Heavy duty insulation provides protection all the way down to -40° F. For DEF totes, our heating blankets are equipped with an access flap so you can pump DEF all winter long and keep your construction vehicles running.
One of customers used our tote heaters to help with a pavement construction problem in Alaska:
"I met with the field maintenance crew of the Juneau Alaska Internal Airport to demonstrate my product, Instant Road Repair (IRR). For my demonstration, I tried to bring the IRR up to a workable temperature by using a forced air ceramic heater. During my presentation, the [heating] product did not perform well and so the product overheated 40°F/°C above the maximum recommended temperature. It cost me the entire pallet of material, and I was also embarrassed. Since then, I use the Powerblanket tote heater." (Vern F, Quick Road Repair Alaska)
Another customer enjoyed peace of mind using our DEF tote heaters:
"Upon implementing our new DEF system to stay compliant with EPA regulations, Powerblanket provided an effective and energy efficient freeze protection system with its DEF tote heater system. We installed the unit and forgot about it, knowing our product is protected. This gives us peace of mind." (Jerri B.)
Bulk Material Heaters
When it comes to construction projects, there are often a lot of odds and ends in different sized containers that need protection during cold weather. From small tubes of caulk, to medium sized buckets of paint, all the way up to pallets of temperature sensitive materials…all of them are vulnerable to cold temperatures. Luckily Powerblanket has got you covered with our hot box, bulk material warmers. Our hot box heaters are easily assembled, stored, and transported so they can be used for on-site, on the move, or off site heating needs. By providing safe, regulated heating for all the contents within, you can solve many temperature needs all at once. Our thermostatic controllers give you precisely warm your materials without the risk of damage. 
One of our customers needed a way to store spray-able materials during the winter without them becoming too cold, stiff, and viscous:
"Great product. Keeps our products at the optimal temperature for spraying even in below freezing conditions. Very happy with the purchase and the elimination of down time due to product viscosity." (5 star Amazon review, February 2018)
Spray Foam Heaters
Properly insulating a construction project enables interior work to continue more easily during the winter. However, spray foam materials, and its equipment, function best at specified temperatures (both excessive heat and cold can be catastrophic). Save yourself the frustration of racing against the clock by using Powerblanket spray foam heaters that allow you to keep running even during cold weather. Avoid wasting your valuable product by safely heating your cylinders (no matter what size). 
Here's what one customer had to say about using Powerblanket to keep their business running:
"I am a professional spray foam installer. My product needs to stay between 60-70 degrees at all times. Winter months used to be tricky until I got these." (5 star Amazon review, August 2020)
Don't let the cold weather stop you, and keep your construction project on schedule. Powerblanket has you covered.