AGRICULTURE SOLUTIONS

Struggling with the chilling effects of cold weather on your agricultural assets? Powerblanket has the solution you need. Whether you're dealing with frozen water troughs or struggling to protect your valuable dairy products, our ready-to-ship or custom heating solutions are the economical, portable, and easy-to-use answer to all your cold weather problems.
Check out some of the benefits of Powerblanket's agriculture solutions:
Efficient freeze protection for water troughs, DEF storage, fertilizer, and more
Customizable options for unique applications and equipment
Rapid thawing for frozen pipes, valves, and other assets
Easy to transport and store for year-round use
Cost-effective heating that saves you money in the long run
Don't let cold weather slow down your agricultural operations. Powerblanket's solutions keep your assets warm, protected, and ready to use. Contact us today to learn more about our products and how we can help you fight back against the cold.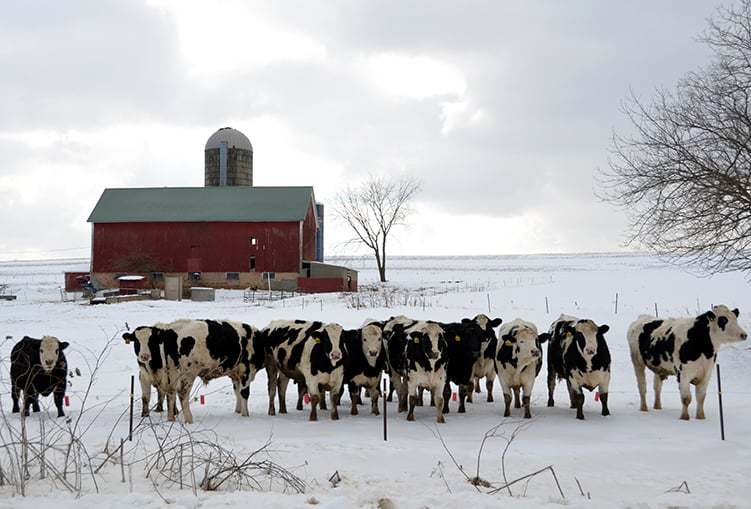 POWERBLANKET AGRICULTURE SOLUTIONS
ELIMINATE DOWNTIME
Weather proof your business and keep operations running smoothly even in cold conditions

SAVE TIME AND MONEY
Avoid setbacks in schedule and budget caused by cold conditions

OPTIMIZE OPERATIONS
Work at full capacity with confidence

EASILY INSTALLED
Easily installed, removed, and relocated

SAFETY CERTIFIED
ETL certified to UL & CSA safety standards

DRUM AND BARREL HEATERS FOR STORAGE
If you store liquid or solid fertilizer in large barrels or drums, then Powerblanket has the perfect solution for you.
- Barrel heaters work with both steel and poly containers
- Full wrap-around design provides complete insulation and ensures equal heat distribution
- Drum warmers deliver safe, uniform heat to expensive materials without overheating or burning
- Design decreases and prevents product waste among temp-sensitive materials by maintaining consistent storage temperatures without significant fluctuations
- Highly energy-efficient GreenHeat Technology™ and lowers energy-related expenses and overall material and equipment costs

HOT BOXES KEEP EQUIPMENT WARM
Do you have equipment or materials that need to be stored in a warm and safe environment? Then take a look at the features of the Powerblanket Hot Box.
- Preserves temperature sensitive material
- Setup is quick and effortless
- Heats palletized products to prevent freezing
- Side doors allow for easy access
- Certified to UL/CSA/CE standards

DEF STORAGE HEATERS FOR FARMING VEHICLES
Now that diesel exhaust regulations apply to agricultural vehicles, it's imperative to safeguard your DEF storage and keep it from the compromising effects of cold weather.
- Preset thermostatic control to prevent overheating
- Keeps DEF and pump housing stored at optimal temperatures
- Insulated top with flap for easy access
- Two extended pump rack brackets
- Provides uniform heat across entire heated blanket

AGRICULTURE CUSTOM SOLUTIONS
If you have a unique heating need that our ready-to-ship products can't cover, that's no problem. Powerblanket is a leader in providing custom heating solutions for a myriad of heating needs. Our custom approach to heating solutions offers:
- Fast turn-around times
- The ability to answer varying levels of customization
- Certification to universal safety standards
- Ease of installation and use

SHOP AGRICULTURAL PRODUCTS
DON'T SEE WHAT YOU NEED? GET A CUSTOM SOLUTION
LEARN MORE
CATALOG
GET THE CATALOG
ADDITIONAL RESOURCES
LEARN MORE HERE