Whether a home brewer or purchasing your keg from a commercial brewer, you know that beer temperature is critical to the overall experience.  Consider Keg Coolers for keeping a keg cold during transport and when outside in the summer sun.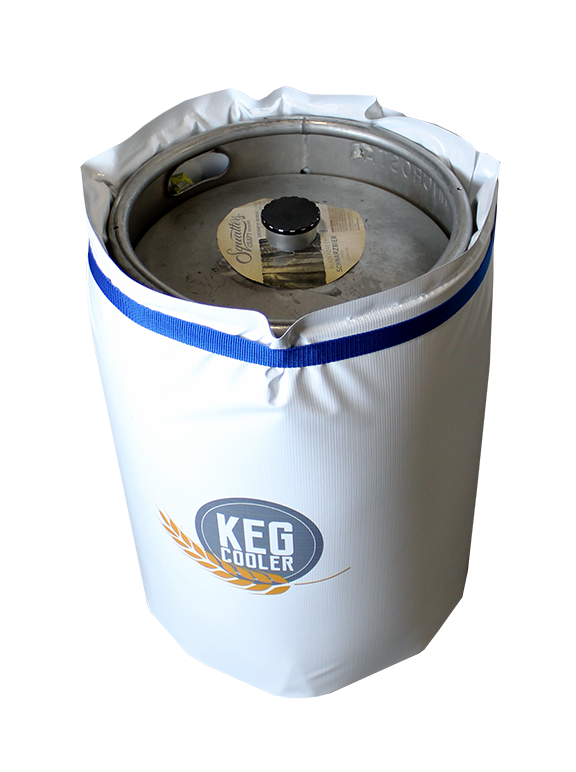 Hypothetical #1
You are hosting a party and picking up a keg for the first time.  The distributor has limited hours and you have to pick the keg up before noon, but the party doesn't start until later that evening.  How do you keep the keg cold so that it is ready to tap as soon as guests arrive?  Ice it in a garbage can?  Create an ice bath in your tub? Wouldn't it be nice if you had a keg wrap that could maintain a cool temperature?
Hypothetical #2
You are catering a beautiful wedding in July.  All of the festivities are outside.  You have to set up early in the day and somehow guarantee that the beer is ready when the guests are.  You obviously cannot keep the keg out in the open in an unattractive fashion.  How do you achieve cool in temperature and appearance?
Hypothetical #3
Everyone is going to the lake for the weekend.  It's time to unplug and enjoy the sun and sand. You volunteered to bring a couple kegs for everyone.  Do you hope that the lake is somehow cold enough to keep the keg cold, but warm enough for your body?  Do you bring an additional giant cooler to ensure the keg stays cold?  What's the convenient secret to keeping a keg cold?  Wish you had a keg wrap?
Serving Guidelines
Regardless of where or when your keg is going to make an appearance, here are some general guidelines for serving:
All beers should be served between 38-55° F.

Lagers are served colder than ales.

Stronger beers are served warmer than weaker beers.

Darker beers are served warmer than lighter beers.

Macro lagers are served as cold as the Rockies.

Serve beers a few degrees colder than the target temperature, to accommodate for warming from the glass and the drinker's hands.
Keg Wrap
There are many simple ways to keep a keg cold, but we would like to recommend a means for achieving the perfect chill that you can use over and over with no mess or stress.  Even on the hottest summer days, the North Slope Chillers keg wrap can keep a cold keg of beer below 50 °F for up to twelve hours without ever having to change the ice packs.  Whether you are a professional caterer, or are just throwing an outdoor party for your friends, keeping your beer cold is critical to the success of your event.  
Not a Hypothetical Experiment
We even ran a controlled experiment so you can see the data for yourself.  We started with a 40°F keg of beer, wrapped the North Slope Chillers insulated keg wrap around the keg, placed it inside a 95 °F environmental chamber and recorded the beer's temperature for 24 hours.  After 6 hours the beer was 43 °F and had only increased 3 degrees, and after 12 hours the temperature had only increased 10 degrees to 50 °F, which is still considered optimal temperature for consuming beer.
North Slope Chillers' Portable Keg Cooler
Black materials absorb the sun's energy and get hot fast. The Keg Cooler insulated keg wraps have a highly reflective industrial grade white

vinyl shell that reflects solar radiation to help keep a keg cold.  

Many insulated keg wraps are made from ¼ inch neoprene.  North Slope Chillers insulated keg wraps contain a ½ inch thick sheet of closed cell industrial grade foam insulation that will keep your keg cool on even the hottest days.

Designed with 12 internal pockets to hold standard, reusable 12 oz 6" x 6" x 1" ice packs.  These ice packs are affordable and easy to find, making replacement a breeze, keep an extra set in the freezer for continuous or frequent use.

Easily swap ice packs out with newly frozen units for longer term use or colder temps.

Keg wrapt and ice packs are easily portable, along with your keg

Low cost beer keg cooling solution
Source
"Proper Beer Serving Temperatures". American Homebrewers Association. 3 March 2017. www.homebrewersassociation.org/how-to-brew/proper-beer-serving-temperatures/
Keep your products and processes within the desired temperature range with Powerblanket's industrial cooling solutions.