Effective cold chain logistics are essential to keep fruit fresh, flowers from wilting, and various chemicals and pharmaceuticals  safe during transportation. In all modes of cold chain shipments, temperature sensitive products are susceptible to a loss of quality.
The Global Cold Chain
Globally, there is a heightened interest in healthy food. Consumers are looking for higher-end products, such as Alaskan salmon, that must travel long distances and move quickly to ensure freshness and quality.
"Demand for fresh food is growing, and that requires increased innovation to overcome capacity and infrastructure constraints, and mitigate disruption risks to ensure quality delivery," adds Tim Smith, executive vice president, sales and business development, for Lineage Logistics. Adjusting to these new demands while maintaining prices, places added pressure on every element of the supply chain.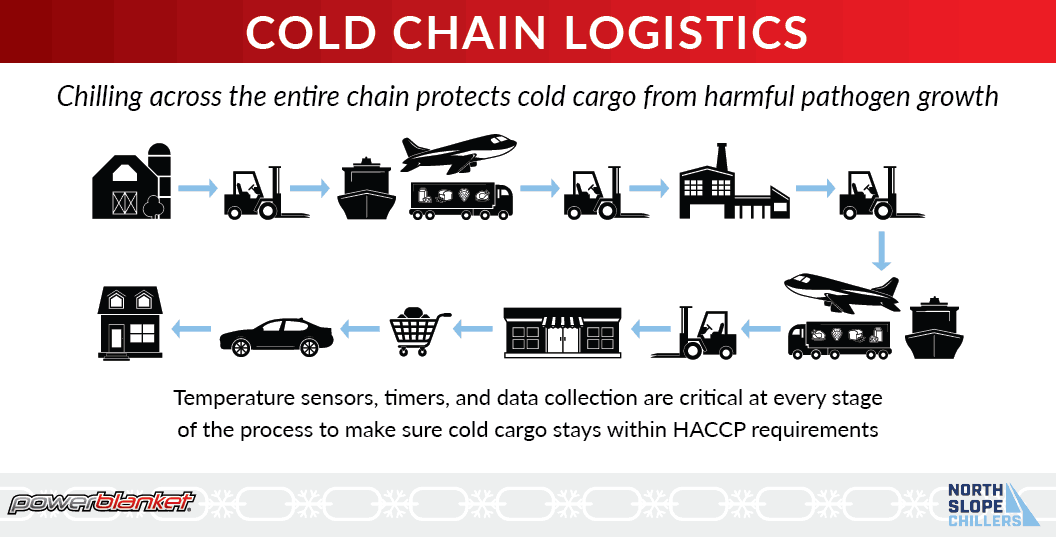 Quality Control
In the food industry, there is an increased focus on quality, health, and integrity. Cold chain logistics must ensure that changes in texture and taste do not occur.  When a shipment strays outside recommended temperatures, quality will deteriorate rapidly.   
More premium products with a shorter shelf life and greater sensitivity to temperature, are raising the bar for temperature control and cold chain logistics.  Refrigerated warehouses across the food cold chain must maintain as many as 5 different temperature zones.
Cold Chain Information Flow
Physical goods such as food, medicine, and flowers are not the only things flowing across the cold supply chain. The flow of information is monitored by supply chain management and is also a vital part of this chain. Keeping track of digital and verbal communication enables companies to tighten their timeline, and solve temperature problems in real time.
The Internet of Things (IoT) is enabling cold supply chain equipment to transfer data and communicate independently. With today's technology, suppliers, transportation companies, and retailers can all monitor the health of their shipments remotely every step along the way.
Like all supply chains, cold chain operators must continually upgrade technology to ensure efficiency, integrity, and safety. This includes both back-end IT infrastructure and front-end devices that gather and report key data in real time.
Some shippers use removable sensors to independently track the temperature of cold cargo, usually for high-value goods and international shipments.
Powerblanket Cold Chain Solutions
Powerblanket offers industrial cooling systems that will meet the demands of unique temperatures during storage and transit. Our partner, North Slope Chillers, is well equipped with industrial cold chain solutions. So you can efficiently regulate temperature-sensitive material under both normal and hot conditions. Transporting food, chemicals, and other heat sensitive materials is no longer a major challenge.
Icewraps
Our fully insulated Icewraps ensure your ice packs will last longer than ice alone and longer than other non-insulated options on the market. Internal pockets place the ice directly against the surface of your container. Icewraps are an affordable and portable option for cold chain logistics
Fluxwrap Cooling Jackets
Our Fluxwrap, multi channel cooling jackets are a more advanced cooling solution. Achieve optimal results when combined with an industrial chiller. Fluxwrap consistently circulates cool fluid over the surface of the container and draws heat away from the contents.
Industrial Chillers
Our portable industrial chillers can efficiently cool loads of all shapes and sizes. Because they are compact and easy to install or relocate, they won't interrupt the layout of your current system. 3 different models provide you with flexible chilling options for any temperature range.
Beacon Smart Cold Chain Temperature Control
There is a sincere need for products that can can analyze and deliver data where and when it's needed. Powerblanket has partnered with Beacon Controls to create a solution that is effective, reliable, and on the cutting edge of real-time smart temperature monitoring.
Change settings locally or connect remotely through Wi-Fi or Cellular networks, so you can keep your operation running smoothly no matter where you are.

Customize scheduling and alerts based on temperature, electrical current, voltage, and resistance readings

Enjoy peace of mind for cold chain logistics

Compatible with a wide variety of cooling or heating devices

Create multiple users with varying levels of access and control for added security.

120/208/240V AC options, switch up to 24 amps
Contact us today to find the perfect cold supply chain solutions for your needs at 855.647.8978 or [email protected]
Keep your products and processes within the desired temperature range with Powerblanket's industrial cooling solutions.