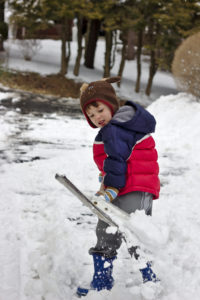 If you've spent even a few minutes behind a snow shovel, you know how exhausting and labor intensive removing snow can be. According to Harvard Medical School's "Calories Burned…" chart, shoveling snow burns approximately 223 calories every 30 minutes (for a person weighing 155 lbs). That's a serious workout! However, while shoveling snow can be an effective way to engage in healthy exercise, it can also lead to serious injury if it's not approached carefully.  Between 1990 and 2006, approximately 195,000 people in the U.S. were treated in a hospital emergency room because of injuries acquired during snow shoveling. To help prevent any injuries, serious or minor, we've compiled the following "how-to" guide with plenty of shoveling tips and techniques:
Before Shoveling Snow:
Consider health risks.

If you suffer from a heart condition, a bad back, or are out of shape, shoveling snow can be dangerous. Consider alternatives such as borrowing a snow blower or hiring a neighborhood teenager to shovel for you.
Wear proper footwear.

You should wear shoes that will keep your feet warm and dry and with adequate traction that will help prevent any slips or falls.
Dress in layers.

After a few minutes of shoveling, you'll likely work up quite the sweat! Dress in layers that don't restrict movement and will keep you warm, but can easily be removed as needed.
Stretch.

Warming up your muscles, especially arms, legs, and back, will reduce the risk of injury.

Make sure you have a good shovel.

An ergonomically designed snow shovel can greatly reduce strain on arms, legs, and back as you work. (Check out

this list

we compiled of top rated snow shovels)
Getting to Work!
Shovel early.

Don't let snow ice over before shoveling. This creates dangerous, slippery surfaces and significantly more work. Salt can be used to help break up ice, but causes damage to driveways and walkways.  
Shovel frequently.

Don't let snow accumulate more than a couple of inches before shoveling. It's safer and much more effective to shovel small amounts more frequently through the day rather than a large amount all at once.
Clear deep snow a bit at a time.

If you do find yourself facing deep snow, clear away just a couple of inches at a time. This will prevent overexertion and bodily strain.
Push.

It's far more effective to spend more time pushing than lifting. Use your shovel to push snow to the edge of your driveway or walkway then lift to designated snow pile.
Mind your posture.

Keep your back straight and bend at the knees (not back!) when lifting.

Take breaks and drink water.

As mentioned earlier, shoveling snow is hard physical labor! Never hesitate to take breaks as needed and drink plenty of water to replenish fluids.
Summerstep Snow Melting Mats
An effective alternative to shoveling doorways and walkways is the Summerstep Snow Melting Mat. These Heated mats are designed to be left outside all winter long, can be custom made to fit any location, and will melt approximately 2 inches of snow per hour while operating. It eliminates time-consuming shoveling and de-icing and prevents slips that could cause serious injury and even a lawsuit. To save time and hassle, and for added peace of mind, consider making Summerstep heated mats a part of your winter safety precautions.