Reducing viscosity is a challenge during cold winter months. Temperatures that dip below optimum working levels can cause materials that are normally fluid to freeze up into solids or thicken. When this happens, projects are delayed, potentially leading to missing deadlines and loss of profit. What can be done to protect fluid materials from becoming too viscous? 
Though viscosity is a complicated and sometimes confusing topic, it only takes a minute to learn a few of the ground rules to viscosity. Through these viscosity basics, you can improve flow control of fluid materials and prevent them from being damaged by cold temperatures. 
VISCOSITY REDUCTION BASICS
A fluid that is viscous will be thick, sticky, and semifluid in consistency. Viscosity can be affected by friction and/or temperature.
Friction
For example, consider what happens when you need some ketchup on your burger. If you simply invert the bottle and expect the ketchup to flow freely, you are a rookie in the sport of burger-eating. Any professional ketchup shaker knows to shake the bottle and then to proceed with caution, because once you have decreased viscosity, due to the shaking, the ketchup can flow quite rapidly. In other words, keeping the ketchup in motion prevents it from increasing in viscosity. 
Mixing concrete is a similar experience. Though not exactly a liquid, wet concrete must be stirred for it to retain its low viscosity. When allowed to stand still or set, concrete's viscosity increases up to the point of solidifying. Concrete must be continually churned in order to maintain its fluidity.
Temperature
Temperature is also a factor in decreasing viscosity. Think about honey, certainly a substance that is thick, sticky and semifluid. Simply shaking a jar of honey will not guarantee any flow. Honey cooled in a refrigerator will have little to no flow because it has been cooled, but when warmed appropriately*, there is a viscosity reduction and honey will flow smoothly.
Along with the shear rate, temperature really is the dominating influence. The higher the temperature is, the lower a substance's viscosity is. The relationship between temperature and viscosity is inversely proportional for all liquids. A change in temperature always affects the viscosity – it depends on the substance just how much it is influenced by a temperature change. For some fluids, even a decrease of 1° C (1.8° F) causes a 10 % increase in viscosity.
FLUIDS REQUIRING LOWER VISCOSITY
Though not a comprehensive list of all materials that are impacted by cold temperatures, the following items offer a quick look at how many fluids must maintain low viscosity to be effective:
Acetone

Automatic Transmission Fluid, Antifreeze, and Brake Fluid

Aviation Fuels

Benzene

Bunker Oil, Marine Fuel Oil

Chloroform

Crude Oil

Diesel Fuel

Ethanol

Gear Oil

Grease

Heavy Fuel Oil

Honey

Hydrofluoric Acid

Ink

Mercury

Methanol

Mollasses

Citric Acid

Paraffin Wax

Pentane

Sulfuric Acid

Tetrahydrofuran

Toluene
How to Decrease Viscosity
As mentioned above, viscosity in fluid materials will decrease if one of two measures are taken. Causing friction, such as stirring, mixing or shaking, will keep the material fluid enough to flow correctly. Applying heat to the material will also increase fluidity and protect it from damages that occur when settling.
If it's supposed to flow but you can't take it out of its container, ensure low viscosity by using a heating wrap or heated box cover. Evenly distributed heat can be used to warm up material and keep it stable at a specified temperature.
Powerblanket Viscosity Control Solutions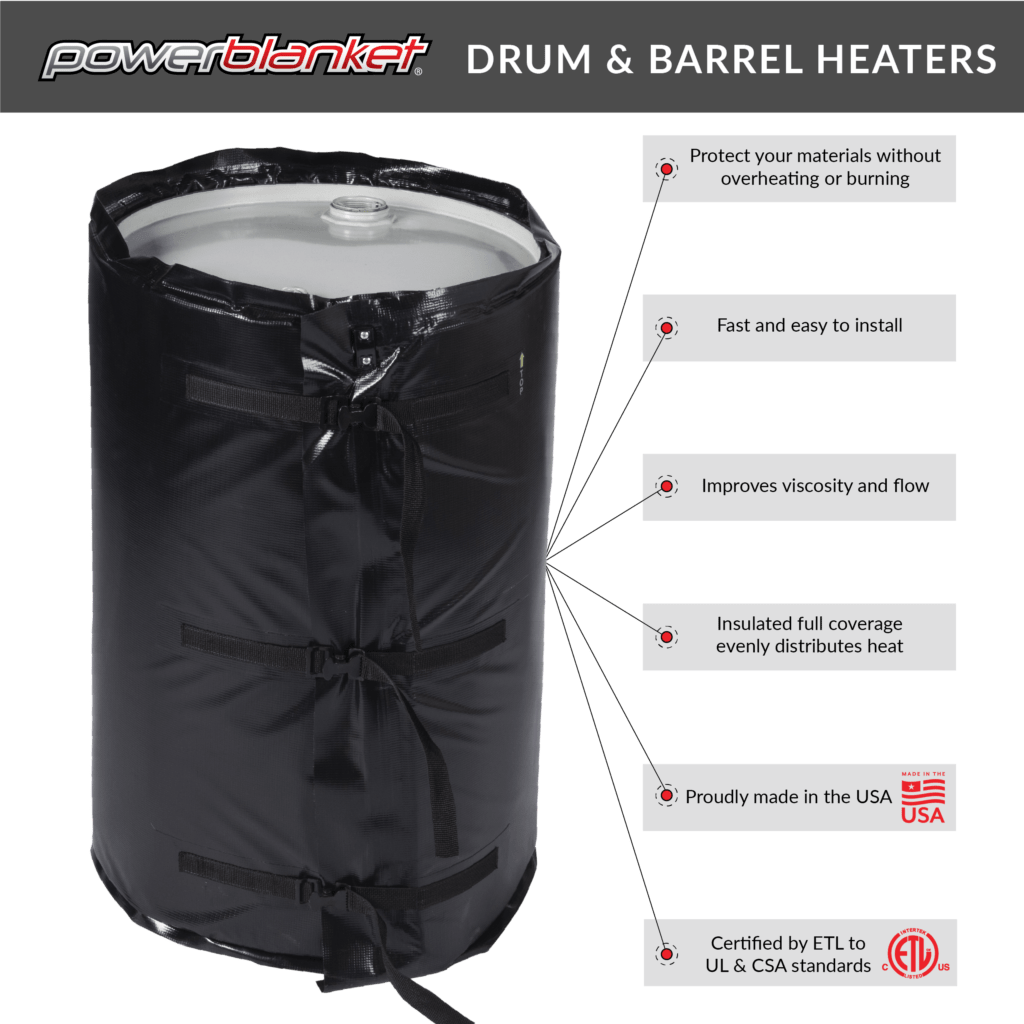 Powerblanket makes it easy to lower viscosity of fluids. Powerblanket offers various ready-to-ship viscosity products, from bucket and drum heaters to IBC tote heaters. Each Powerblanket product guarantees the following: 
Deliver safe, uniform heat to expensive materials without overheating or burning while lowering viscosity.

Full wrap-around design provides complete insulation and ensures equal heat distribution.

Increase the performance and efficiency of your processes—decrease viscosity.

Safety certified to UL and CSA Standards. Class1 Div2 hazardous location products also available.

E

nergy-efficient technology lowers energy-related expenses and overall project and equipment costs.

Decrease and prevent product waste among temperature sensitive materials by maintaining consistent storage temperatures without significant fluctuations.
Powerblanket also produces custom solutions for most applications. If you need help with viscosity reduction, Powerblanket has you covered.
*Do not heat honey much above 100° F (38° C) to avoid nutritional loss.
Source
"Viscosity Tables and Viscosity Charts." Viscopedia. 30 December 2016. http://www.viscopedia.com/viscosity-tables/
Powerblanket's industrial drum & barrel heaters provide even and consistent heating, eliminating waste and lowering costs.