IBCs (Intermediate Bulk Containers) are ideal storage containers for a variety of industrial needs. IBC totes and tanks are useful, tough, stackable, and provide easy access to products stored inside. IBC tank dimensions and sizes vary depending upon the user's needs.
Powerblanket IBC heaters allow you to easily store temperature-sensitive liquids, chemicals, foods, and other industrial materials in IBC totes without fear of freezing, viscosity changes, or damage from extreme temperature fluctuations. Our custom-engineered solutions ensure your unique IBC storage needs are met.
What Can You Store in IBCs?
IBC tanks and totes come outfitted with valves and other attachments that allow users to dispense the products within. Because of this versatility, IBCs easily store industrial fluids and solids.
Liquid, granulated, and/or powdered food ingredients
Food syrups, such as corn syrup or molasses
Bulk chemicals including hazardous materials or dangerous goods
Commodities and raw materials used in industrial production
Petrochemical products, such as solvents, detergents, or adhesives
Rainwater when used for rooftop rainwater collection
IBC Tote Dimensions
IBC tanks or totes are manufactured in plastic, carbon steel, or stainless steel and range from 180 to 550 gallons. The IBC tank dimensions listed below are typical standard sizes, however most IBC suppliers also offer additional sizes in between these capacity ranges.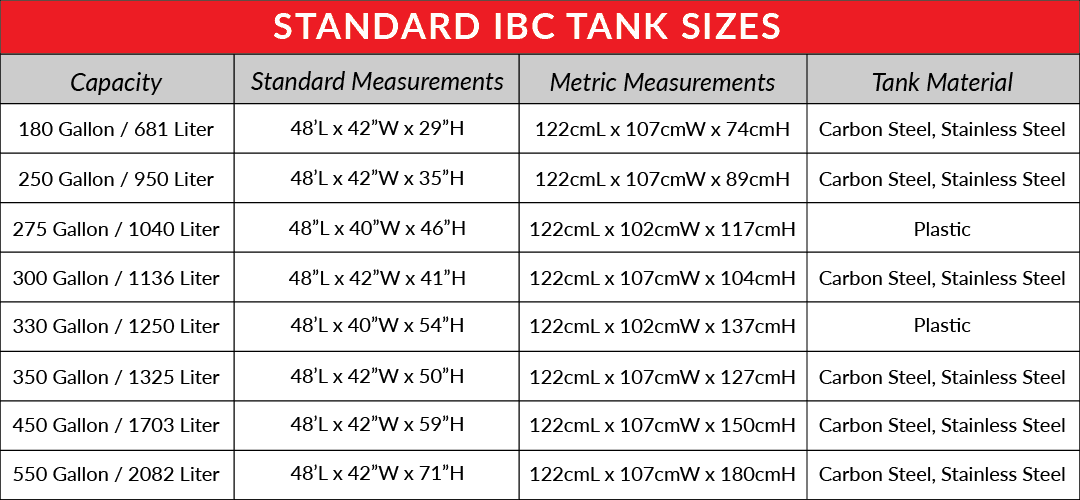 Powerblanket IBC Heating Solutions
Storing temperature sensitive materials in IBCs during the winter can present a real problem. As fluid products freeze and expand, IBC tanks and totes can crack, rupture, and even explode. Colder temperatures can also cause viscosity problems for industrial fluids. Applied heat reduces fluid viscosity making it easier to pour, pump, dispense, and work with.
Tote Heaters
Because Powerblanket heaters emit safe, consistent heat, we ensure that your IBCs are kept at optimal temperatures. Our heaters protect your temperature sensitive materials without overheating or scorching. Our standard IBC heaters fit 250 gallon, 275 gallon, 330 gallon, 350 gallon, 450 gallon and 550 gallon IBC tanks or totes. Learn more about our IBC heating solutions here.
Custom IBC Solutions
We proudly offer the fastest custom order process on the market. Our world class engineers are standing by ready to innovate custom IBC heaters for any size or application. With custom quotes available in 1-3 days and orders shipped  in 1-3 weeks, customization is a breeze. Powerblanket also designs custom heating solutions for hazardous locations that are C1D2 safety certified.
Powerblanket IBC heaters are easy to install, save you time, money, and preserve your sensitive products, whether in storage or in transit. Contact us today to find the perfect IBC heating solution for your needs at 855.993.6294 or [email protected].
Keep your temperature-sensitive materials at the right temperature with Powerblanket IBC tote warmers and heaters.